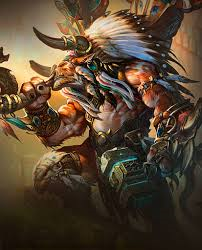 Avid WoW player since 2005 and have player every class and spec, mainly on Horde but still dabble in Alliance. I have raided all end game content and was GM for my guild in earlier Wrath and into Pandaria where we took a break for obvious reasons. My mains are tanks and healers and love the difficulty of these classes. I love the lore that Blizzard puts into these characters and factions and hope that they continue in this direction.
Though the retail game of WoW is amazing I came back to a private server (Feenix/Emerald Dream)(Tauren Warrior:Argonaught) for Vanilla and absolutely love it. Even thought about leaving my main WoW for the Vanilla. I am also down and able t talk to people especially if its in regards to game play/lore. If you want or need something faster message me on my Twitter. @HowitzerHorde
FunniestMoment "My first maxed lvl was a Blood elf Paladin and I lvl'd as Holy to learn the class.....it took FOREVER"
My favorite pages
Community content is available under
CC-BY-SA
unless otherwise noted.