Jurassic World: Dominion Dominates Fandom Wikis - The Loop
Play Sound
The tauren of Thunder Bluff is a faction of tauren that start in the Red Cloud Mesa, an area of rolling plains atop the high cliffs in southern Mulgore. They are the Horde tauren player race.
Starting info 
The tauren (Shu'halo in their native tongue) are one of the oldest races native to Azeroth, a proud and tenacious race with bull-like features and a culture that is very similar to a stylized Native American culture. They are for the most part, druidic, shamanistic, peaceful, and powerful beings. They resemble minotaurs, having horned bull's heads, large hooves in place of feet, three-fingered hands, and a towering body structure.
The largest tauren tribe, known as the Bloodhoof Tribe, reside on the top of a cluster of tall mesas known as Thunder Bluff, in the grasslands of Mulgore
Starting Attributes
== Racial Traits ==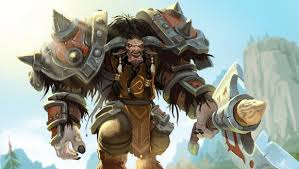 War Stomp

- instant - 1 min cooldown
Instantly stomps the ground dazing all enemy characters with in a 5 yard radius.

Nature Restiance

- passive
Tauren have a natural restiance to nature magic .

Endurance

- passive
Health is increased by 5% of total HP.

Cultivation

- passive
Tauren recive a skill bonus of +5 in Herbilism and can gather herbs faster then other classes.
History
For countless generations, the bestial tauren roamed the plains of the Barrens, hunted the mighty kodos, and sought the wisdom of their eternal goddess, the Earth Mother. Scattered across the land, the wandering tribes were united only by a common hatred for their sworn enemy, the marauding centaur. Seeking aid against the centaur, the chieftain, Cairne Bloodhoof befriended Thrall and the other orcs, who had recently journeyed to Kalimdor.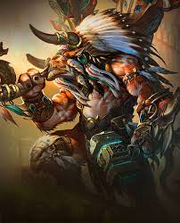 With the orcs' help, Cairne and his Bloodhoof tribe were able to drive back the centaur and claim the grasslands of Mulgore for their own. For the first time in hundreds of years, the tauren had a land to call their own. Upon the windswept mesa of Thunder Bluff, Cairne built a refuge for his people, where tauren of every tribe is welcome. Over time, the scattered tauren tribes united under Cairne's rule. There are a few tribes who disagree about the direction their new nation should take, but all agree that Cairne is the wisest and best suited to lead them towards the future.
Though the noble tauren are peaceful in nature, the rites of the Great Hunt are venerated as the heart of their spiritual culture. Every tauren, warrior or otherwise, seeks identity both as a hunter and as a child of the Earth Mother. Having reached the age of maturity, you must test your skills in the wild and prove yourself in the Great Hunt.WoWMan 183
Starting area intro voice-over 
| | |
| --- | --- |
| " | Once a nomadic people, the Tauren roamed the endless plains of the Barrens hunting the mighty Kodo. Scattered across the land, the wandering tribes were united only by their common hatred for their sworn enemy, the marauding Centaur. Seeking aid against the Centaur, the great chieftan Cairne Bloodhoof befriended the savage Orcs who had recently journeyed to Kalimdor. With the Orcs' help, Cairne and his tribe were able to drive back the Centaur and claim the grassliands of Mulgore for their own. Upon the windswept mesa of Thunderbluff, Bloodhoof built a refuge for his people. Over time, the scattered tribes united under a single banner. Though the noble Tauren are peaceful in nature, the rights of the Great Hunt are venerated as the heart of their spiritual culture. As a tribesman of Mulgore, you must test your skills in the wild and prove yourself in the Great Hunt. |