Jurassic World: Dominion Dominates Fandom Wikis - The Loop
Play Sound
Summon Charger
Usable by
Class
Paladin
Properties
Type
Utility
School
Holy
Cooldown
None/Global Cooldown
Related buff
This article is about the Horde mount. For the Alliance version, see Charger.
The mighty charger serves as the steed for all those who serve the Light.[citation needed]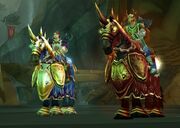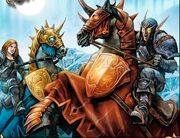 Summon Charger is an epic version of the Warhorse mount only available to Paladins at level 40 with the Journeyman Riding skill and the Summon Warhorse ability learned. The quest was available prior to patch 4.0.1 at level 60 and gave the same rewards.
Differences between Alliance and Horde
Humans, Dwarves and Draenei receive a charger with blue livery and gold-plated armor, and exudes a golden aura. However, the Blood elf charger has red livery, with what appears to be brass armor and a red aura. Only the Blood elf quest awards a tabard, and it's not awarded if one buys the skill and spell from a trainer.
Charger quests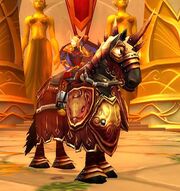 For blood elf paladins, the quest to obtain a Thalassian charger also begins at 60, and is given by Knight-Lord Bloodvalor at Blood Knight Headquarters in Silvermoon's Farstriders' Square.
Note: Prior to Patch 2.4.0, the following quests involved Lady Liadrin, the leader of the Blood Knights. Since the relocation of M'uru to the Sunwell Plateau and Liadrin to Shattrath, her quests will be taken over by Lord Solanar Bloodwrath.
Summary of needed non-quest items
Total: Approx. 605

(cheapest) if all non-quest ingredients are purchased.
Patch changes
Template:Patch 4.0.1

Template:Patch 3.2.0

Template:Patch 3.0.3

Template:Patch 2.0.3
See also
External links
Mounts
Mount family

Bears

 ·

Camels

 ·

Cloud serpents

 ·

Crafted

 ·

Discs

 ·

Dragon Turtles

 ·

Dragonhawks

 ·

Drakes

(

Nether

 ·

Elemental

 ·

Arena

)

 ·

Elekks

 ·

Gryphons

 ·

Hawkstriders

 ·

Hippogryphs

 ·

Horses

 ·

Jeweled Panthers

 ·

Kodos

 ·

Mammoth

 ·

Mechanostriders

 ·

Mushan

 ·

Nether ray

 ·

Phoenix

 ·

Proto-drakes

 ·

Quilen

 ·

Rams

 ·

Raptors

 ·

Riding Cranes

 ·

Riding Goats

 ·

Sabers

 ·

Seahorses

 ·

Scorpids

 ·

Silithid

 ·

Skeletal horses

 ·

Talbuks

 ·

Turtles

 ·

Water Strider

 ·

Wolves

 ·

Wyverns

 ·

Unique

 ·

Yaks

Horse mounts

Template:Mountfooter/Horse