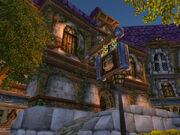 The Slaughtered Lamb[46, 83.8]
is a seedy pub in the Mage Quarter of Stormwind City. The pub's basement and catacombs serve as host to the city's warlock community and acts as a training ground for new recruits. The top floor is abandoned except for a bartender. Given the pub's name, it seems like the perfect place for warlocks to do their training.
The Slaughtered Lamb is presumably named after a pub of the same name that appears in the film An American Werewolf in London.
Inhabitants
Available Spirits
Item
Cost

[

Bottle of Pinot Noir

]

50

[

Skin of Dwarven Stout

]

1 20

[

Flask of Port

]

1 50

[

Flagon of Mead

]

15

[

Jug of Bourbon

]

20
Media
This article has been tagged among the Pages that need revision.
Subzones of Stormwind City

The Canals

(

The Stockade

)

 ·

Cathedral Square

(

Cathedral of Light

 ·

City Hall

 ·

Orphanage

)

 ·

Dwarven District

(

Auction House

 ·

Cut-Throat Alley

 ·

Deeprun Tram

 ·

The Golden Keg

 ·

Royal Bank of Stormwind

 ·

Stonehand Mining

)

 ·

Mage Quarter

(

The Blue Recluse

 ·

The Slaughtered Lamb

 ·

Wizard's Sanctum

)

 ·

The Old Barracks

 ·

Old Town

(

Champions' Hall

 ·

Command Center

 ·

SI:7

)

 ·

The Park

 ·

Stormwind City Cemetery

 ·

Stormwind City Outskirts

(

Olivia's Pond

 ·

The Wollerton Stead

 ·

The Eastern Earthshrine

)

 ·

Stormwind Harbor

 ·

Stormwind Keep

(

Petitioner's Chamber

 ·

Royal Gallery

 ·

Royal Library

 ·

War Room

)

 ·

Stormwind Lake

 ·

Trade District

(

The Gilded Rose

 ·

Gryphon Roost

 ·

Stormwind Counting House

 ·

Stormwind Visitor's Center

 ·

Trader's Hall

)

 ·

Valley of Heroes

 ·

Three Winds