Peacebloom

Sell Price: 10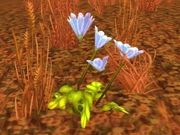 Peacebloom is a herb used in alchemy.
Source
Peacebloom can be found and harvested by herbalists in open fields in low-level zones.
Peacebloom can also be found in limited supply at vendors.
Peacebloom can be dropped by some mobs in low-level zones, especially plant mobs like the timberlings in Teldrassil.
Peacebloom can be looted from chests in low-level zones.
Peacebloom can be fished from

pools

in a difficult-to-reach area above and to the north of

Northshire Abbey

.
Peacebloom as an Ingredient
Peacebloom is used in the following recipes:
Alchemy
Use: Restores 70-90 health
Alchemy Requirements: 1x Peacebloom, 1x Silverleaf, 1x Empty Vial
Weak Troll's Blood Potion

Minor Rejuvenation Potion

Elixir of Minor Fortitude

Discolored Healing Potion
Peacebloom as a Quest Objective
During the Ahn'Qiraj War Effort, Peacebloom can be turned in to the Horde.
External links

El's Extreme Anglin'