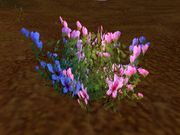 Mageroyal is an herb that can be gathered by herbalists, or bought in limited quantities from selected vendors. It requires an herbalism skill of at least 50 to gather.
Source
Mageroyal can be found on plains in low-level zones. Sometimes, players may find [Swiftthistle] while picking Mageroyal. It is also sold in limited supply by vendors, and is a reward from the Alchemy quest

 [8] Elixirs for the Bladeleafs. Occasionally, Mageroyal will even be dropped as loot from low-level monsters.
As an ingredient
Mageroyal is used in the following recipes:
Alchemy
Minor Mana Potion

Minor Rejuvenation Potion

Elixir of Wisdom

Minor Magic Resistance Potion

Lesser Mana Potion
External links