A faction is a group of allies, either racial or ideological. Most in-game factions are described in Warcraft lore, but some were specifically introduced in World of Warcraft. The concept of a faction exists primarily in World of Warcraft. The use of factions in other Warcraft games is more for general grouping purposes and not quantitatively tracked like World of Warcraft.
Most factions are tracked in World of Warcraft by the reputation that a player character has with each faction. Some groups that are not tracked as factions appear in the organization list.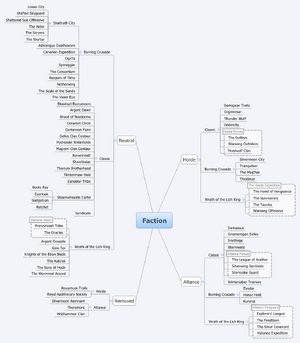 This section concerns content exclusive to World of Warcraft.
Darkspear Trolls

(related to

Trolls

)

Orgrimmar

(related to

Orcs

)

Thunder Bluff

(related to Tauren)

Undercity

(related to Forsaken)
Darnassus

(related to Night elves)

Gnomeregan Exiles

(related to

Gnomes

)

Ironforge

(related to Dwarves)

Stormwind

(related to Humans)
 

Wintersaber Trainers

(related to night elves and

Winterspring

)
Horde Forces
Alliance Forces
Other
Syndicate
(enemies of

Ravenholdt

)

Wintersaber Trainers

(related to

Winterspring

)
See also
Faction exclusive recipes

Organizations
External links
Official

World of Warcraft Community Site
 Factions
World of Warcraft Community Site 

World of Warcraft (classic) factions