Jurassic World: Dominion Dominates Fandom Wikis - The Loop
Play Sound
For other uses, see Azeroth.
Eastern Kingdoms
Level 1-60, 70, 80-85
Loading screen of the Eastern Kingdoms during Vanilla
Races
 Human
 Forsaken
 Scourge
 Dwarf
 Forest troll
 

Jungle troll


 Orc
 

Blood elf


 

Naga


 Demon
 Gnoll
 Murloc
 

Goblin


 

Worgen


 Gnome
 Ogre
 High elf

 Night elf
 

Half-elf


 Half-orc
 

Dryad


 Keeper of the grove
 

Broken


 

Elemental


 

Red dragonflight


 

Black dragonflight

Location
Eastern Azeroth
The Eastern Kingdoms (a few times called Azeroth[1][2][3][4][5][6]) are the eastern continents on the world of Azeroth.[7] The Eastern Kingdoms is made up from a group of smaller continents (Azeroth, Khaz Modan and Lordaeron) formed from the original continent of Kalimdor following the Great Sundering. The Eastern Kingdoms lie to the east of the Great Sea and to the west of the Forbidding Sea. The central part of the Eastern Kingdoms is dominated by the Khaz Mountains and the Redridge Mountains. Both cover several zones. The Eastern Kingdom's western counterpart is the continent of Kalimdor.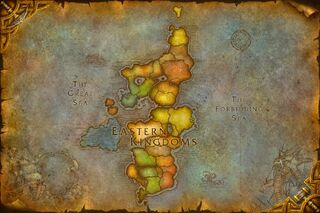 The Eastern Kingdoms include the three continents of Lordaeron,[8] Khaz Modan,[9] and Azeroth.[10] The Eastern Kingdoms are the homes of the undead, dwarves, gnomes, humans, and the few remaining high elves.
An old map that was on the Blizzard web site and the Warcraft RPG shows that the Eastern Kingdoms are divided into three continents:
Quel'Thalas seems to make up a fourth continent in some maps. Most of the time, it appears that the Eastern Kingdoms are divided into only three continents, as Quel'Thalas is shown as part of northern Lordaeron. However the entrance to Quel'Thalas is at this time boarded up (opened up in The Burning Crusade).
Capital cities
Alliance
Horde
Battlegrounds
Dungeons
Main article: Instances by continent
Races Per Faction
Alliance
Horde
See also
References
External links
Old

WoW.GamePressure.com

WOW Scribble Maps
 Eastern Kingdoms Map

Template:Eastern Kingdoms Template:Azeroth
de:Östliche Königreiche