For the Warcraft III unit, see Druid of the Claw (Warcraft III).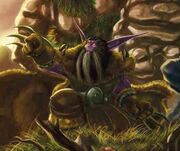 A druid of the claw is class of druid. They were invaluable during the Third War. Their totem is the bear, and they use the bear's strength and resilience to ravage their enemies in close combat. Perhaps more than any other druid, Druids of the claw focus on combat prowess, preferring raw strength and staying power to stealth and subtlety.[1]
Druids of the claw take on the form of bears and wander the wilderness on a never-ending pilgrimage dedicated to the ursine Eternals. Though the destruction of the ancient Kaldorei homeland destroyed much of the land traveled by the twins, those who worship them have never given up their search for any of Ursoc's "alewells" and Ursol's carvings that may have survived to the present day.[2]
World of Warcraft

This section concerns content exclusive to World of Warcraft.
Named
References
World of Warcraft

RPG classes

Core class

 ·

Prestige class

 ·

Variant class

 ·

Racial iconic class

 ·

Creature class

 ·

NPC class

Core classes
Prestige classes

Ace

 ·

Alchemist

 ·

Archmage of Kirin Tor

 ·

Argent Dawn templar

 ·

Assassin

 ·

Beastmaster

 ·

Berserker

 ·

Bone crusher

 ·

Brewmaster

 ·

Buccaneer

 ·

Dark ranger

 ·

Dead shot

 ·

Death knight

 ·

Demon hunter

 ·

Dragonsworn

 ·

Duelist

 ·

Elven ranger

 ·

Enchanter

 ·

Exemplar

 ·

Fel-sworn

 ·

Gladiator

 ·

Gunman

 ·

Hexer

 ·

High divinist

 ·

Holy strider

 ·

Infiltrator

 ·

Ley walker

 ·

Lightslayer

 ·

Mountain king

 ·

Mounted warrior

 ·

Naga anomaly

 ·

Pandaren transcendent

 ·

Plagueshifter

 ·

Potion doc

 ·

Primal

 ·

Pyremaster

 ·

Sapper

 ·

Savagekin

 ·

Scarlet battle mage

 ·

Scarlet inquisitor

 ·

Shadow ascendant

 ·

Shadow hunter

 ·

Sister of steel

 ·

Spirit champion

 ·

Spirit walker

 ·

Spymaster

 ·

Steam warrior

 ·

Subversive

 ·

Techno mage

 ·

Techslayer

 ·

Ursa totemic

 ·

Vindicator

 ·

Warden

 ·

Wilderness stalker

 ·

Windwarrior

Variant classes
Racial iconic classes
Creature classes
NPC classes

Aristocrat

 ·

Commoner

 ·

Expert

 ·

Soldier

RPG classes category

 ·

Warcraft RPG classes