Jurassic World: Dominion Dominates Fandom Wikis - The Loop
Play Sound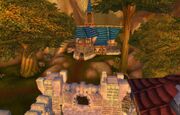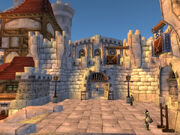 The Alliance Command Center[79.0, 70.6]
is the base of operations for Stormwind's army officers, warrior and hunter trainers, and is the location of a horse stable with riding instructor and vendor. Although it normally houses a large number of soldiers and commanders, most of the city's army has been sent away to distant battlefields, and the Command Center keeps only a skeleton crew of hardened veterans to train the city's militia. The three famous trainers are Ander Germaine, Wu Shen, and Ilsa Corbin, with Ander having the responsibility of being the leader in charge, and Ilsa being in command of mission assignments.

This section concerns content exclusive to Cataclysm.
The Command Center now has a lush, green area of its own, separate from Old Town and SI:7. Hunter trainers have been added, as well as a stables, and there are now Justice and Valor Quartermasters.
Inhabitants
Merchants
Services
Trainers
This article has been tagged among the Pages that need revision.
Subzones of Stormwind City

The Canals

(

The Stockade

)

 ·

Cathedral Square

(

Cathedral of Light

 ·

City Hall

 ·

Orphanage

)

 ·

Dwarven District

(

Auction House

 ·

Cut-Throat Alley

 ·

Deeprun Tram

 ·

The Golden Keg

 ·

Royal Bank of Stormwind

 ·

Stonehand Mining

)

 ·

Mage Quarter

(

The Blue Recluse

 ·

The Slaughtered Lamb

 ·

Wizard's Sanctum

)

 ·

The Old Barracks

 ·

Old Town

(

Champions' Hall

 ·

Command Center

 ·

SI:7

)

 ·

The Park

 ·

Stormwind City Cemetery

 ·

Stormwind City Outskirts

(

Olivia's Pond

 ·

The Wollerton Stead

 ·

The Eastern Earthshrine

)

 ·

Stormwind Harbor

 ·

Stormwind Keep

(

Petitioner's Chamber

 ·

Royal Gallery

 ·

Royal Library

 ·

War Room

)

 ·

Stormwind Lake

 ·

Trade District

(

The Gilded Rose

 ·

Gryphon Roost

 ·

Stormwind Counting House

 ·

Stormwind Visitor's Center

 ·

Trader's Hall

)

 ·

Valley of Heroes

 ·

Three Winds