This article has been tagged among the Pages that need revision.
This article or section is a miscellaneous stub. You can help expand it by editing it.

If appropriate, you might want to import some information from a database site - see Fansites for listings.
Pages linking here may have clues as to what the page should contain, or perhaps the

discussion

page.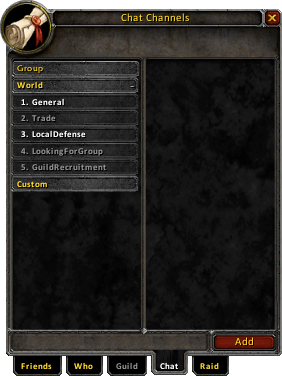 A new UI pane added to the Socials window in patch 2.2, the Chat Channels pane will now show the channels players are in or are available, depending on the area of the world they are in, along with new private channel controls.

The other panes accessible from the Chat Channels window:
Friends

(including

Ignore

)

Guild

Raid
Patch changes
See also