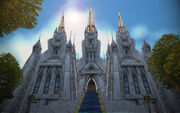 The Cathedral of Light in Stormwind City is the most striking monument of the Church of Light. The construction of the cathedral was overseen by Archbishop Benedictus and his then-mentor, Archbishop Alonsus Faol.
The Cathedral is home to some of the most powerful and influential holy leaders in the world. Duthorian Rall is perhaps Stormwind City's most accomplished paladin. The archbishop himself also resides within the hallowed chambers.
Priests and paladins travel to the cathedral from far and wide seeking training and wisdom from their resident counterparts. High Priestess Laurena is the highest ranking priest trainer in Stormwind City and Lord Grayson Shadowbreaker is the foremost paladin trainer. Brother Crowley is always looking for possible recruits for the Scarlet Crusade and also acts as the Crusade's emissary to the archbishop.
The Cathedral is also the most common place for human roleplaying players to marry since it so greatly resembles a church.
There is a way downstairs to the basement on the right side of the Cathedral in the back. The basement (or catacombs) contains a library and a general catacomb. There are no guards there, and Alliance players rarely venture down, so it is a popular place for Horde raids. A warlock and two rogues usually sneak down there to summon an entire raid, thus taking the city by surprise. Since the Cataclysm, mobs loyal to the Twilight's Hammer clan can be found there, but only when players are on the quest Cataclysm in the Catacombs.
Cathedral of Light may be a reference to the real "Cathedral of Light", a feature of the Nuremberg Rallies in Nazi Germany.
Inhabitants
Class trainers
Profession trainer
Merchants
NPCs
Mobs (bottom level while on quest)
Patch changes
This article has been tagged among the Pages that need revision.
Subzones of Stormwind City

The Canals

(

The Stockade

)

 ·

Cathedral Square

(

Cathedral of Light

 ·

City Hall

 ·

Orphanage

)

 ·

Dwarven District

(

Auction House

 ·

Cut-Throat Alley

 ·

Deeprun Tram

 ·

The Golden Keg

 ·

Royal Bank of Stormwind

 ·

Stonehand Mining

)

 ·

Mage Quarter

(

The Blue Recluse

 ·

The Slaughtered Lamb

 ·

Wizard's Sanctum

)

 ·

The Old Barracks

 ·

Old Town

(

Champions' Hall

 ·

Command Center

 ·

SI:7

)

 ·

The Park

 ·

Stormwind City Cemetery

 ·

Stormwind City Outskirts

(

Olivia's Pond

 ·

The Wollerton Stead

 ·

The Eastern Earthshrine

)

 ·

Stormwind Harbor

 ·

Stormwind Keep

(

Petitioner's Chamber

 ·

Royal Gallery

 ·

Royal Library

 ·

War Room

)

 ·

Stormwind Lake

 ·

Trade District

(

The Gilded Rose

 ·

Gryphon Roost

 ·

Stormwind Counting House

 ·

Stormwind Visitor's Center

 ·

Trader's Hall

)

 ·

Valley of Heroes

 ·

Three Winds
de:Kathedrale des Lichts fr:Cathédrale de la Lumière