Were you looking for the NPC Briarthorn, the Warlock trainer?
---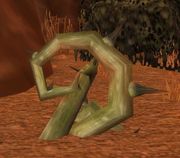 Requires 70 Herbalism to gather.
Source
Briarthorn can often be found near Quilboar settlements and at the base of trees in level 10-25 zones. Rarely, Swiftthistle can be harvested along with Briarthorn by picking Briarthorn Nodes.
Pickable Zones
The Barrens

19.4%

Silverpine Forest

11.6%

Duskwood

10.3%

Hillsbrad Foothills

10.2%

Westfall

9.4%
Stonetalon Mountains 9.3%

Wetlands

7.0%
Darkshore 6.1%

Redridge Mountains

6.1%

Loch Modan

5.0%

Ashenvale

3.4%
Razorfen Kraul 1.5%
Briarthorn as an Ingredient
Alchemy
Lesser Healing Potion

Swiftness Potion

Elixir of Wisdom

Strong Troll's Blood Potion
Lore
According to legend Briarthorn grows where Agamaggan's blood touched the soil of Azeroth after he fell in the War of the Ancients.
External links